As the crisis is over, I will continue to blog about the aftermath and the investigation, so bookmark this entry if you want to follow the developments as they are reported first from the russian sources.
You can donate money to the victims here. (hat tip: Nanette, scott holmes and others)
Send your condolences to the Russian Embassy (hat tip: Linda)
My live blogging updates, as the crisis took place, can be found here.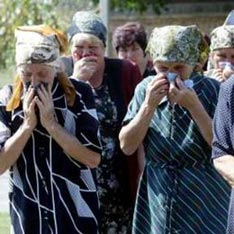 OLD UPDATES BELOW, NEW UPDATES (PART 2) are HERE
First official numbers are out.
323 dead, 156 of those are children.
It's possible that this number will increase as the police and rescue workers are going through rubble (the gym was blown up)
270 bodies have been identified.
Over 700+ received medical help.
The official total for the number of hostages is 1,191.
Officials say that many of the wounded were shot in the back as they tried to escape during the rescue operation.
- According to hostages, on the last day of the siege the terrorists did not allow anyone to use the bathroom.

- Some children ate plants that were in the building, because they were so hungry.
- Some children drank their urine, because of thirst.
- According to one of the hostages terrorists raped some older students.
- One hostage is saying that one of the terrorists was "nice", he sat quietly reading Koran and had a beard. "When I asked him if we'll be freed, he said: I don't know guys, I am not in the know".
- Terrorists had a cellphone and would regularly report to someone on the outside.
- Terrorists told children that the tap water was poisoned.
- When the hostages tried to escape as the storming took place they were shot in the back, one of the hostages claims that one of the terrorists who was shooting was smiling as the children were falling.
As I posted before:
323 dead, 156 of those are children.
But it gets even worse. 260 are missing.
According to the residents of Beslan, the real number of dead could be around 600.
I believe this is the biggest body count from a single terror act, after 9/11.
North Osetia's minister of interior, Kazbek Dzantiev, has resigned.
FSB is looking into the possibility that terrorists were aided by somebody in Osetian police.
3 men are detained on suspicion of aiding the terrorists.
A morgue in Vladikavkaz receieved 394 bodies , according to its anonymous employee. Some bodies will have to be identified by DNA.
Unfortunately, I think we'll see the number of dead get real close to 600.
Russian intelligence has information that points to Abu Omar Asef as the chief financier of the terrorist act in Beslan. Abu Omar Asef is a wahabbi and Al Qaeda's representative in Chechnya.
According to German intelligence (as reported in strana.ru), the Arabs who took part in the hostage taking, were Syrian and Jordanian citizens who trained in Afghanistan.
32 terrorists took part in the hostage taking. 30 of them were killed. The status of 2 others is unknown.
U.S. government has donated $50,000 to the Russian Red Cross.
Sharon called Putin today, to express condolences on behalf of all Israelis and to wish speedy recovery to the wounded.
Sharon also offered Israel's help, if need.
Russia's foreign miniser, Sergeie Lavrov, is flying to Israel today to discuss cooperation in combatting terrorism.
Germany is spending 100,000 euro on medical supplies to be sent to Beslan.
According to the hostages, the explosives were scotch taped to the basketball hoops inside the gym.
They were remote controlled, but ended up going off accidentaly. The scotch tape couldn't hold one of them and it fell, going off in the process, its shock wave knocking down one of the terrorists and setting off another bomb. There was a great deal of casualties from that alone, and ultimately that accident is what caused the raid.
According to utro.ru's repoter, there are about 500 bodies in the morgue. The official number of dead is still at 323.
Unfortunately, I think we are going to see the final death toll somewhere around 600.
UK Times Online (via LGF)
AFTER more than 24 hours in the sweltering heat of the school gymnasium in Beslan, one of the boys trapped inside could not take it any longer.
Summoning up his courage, he approached a hostage taker with a bayonet fixed to his assault rifle and asked him for a drink. It was probably the worst error that he could have made.
"Instead of giving him water, he drove his bayonet through the boy's body,? said Stanislav Tsarakhov, 10, another captive standing nearby. "I don't know if he died.?
I expect no less from Al Jazeera. They are gloating:
Despite promises not to use force and negotiate a peaceful end to the hostage taking in the Beslan school, Russian forces attacked the school, which resulted in killing 320 people and injuring about400 .
(Hassan Bleibel, Al-Mustaqbal, 9 /4/04).
The Russian Bear Recues the Beslan School Children: 320 Killed, 400 Injured
(Baha Boukhari, Al-Ayyam, 9 /4/04).


The only terrorist caught alive was shown on channel 1, today. His last name is Kulov - a Chechen.
He was born in the Nozhai-Urt region, Chechnya, but lately resided in Karabulak, Ingushetia.
Kulov told the investigators that the band was led by a Chechen, who went by the nickname "Polkovnik" (Colonel).
Only Polkovnik and Hodov* knew where the group was going. After the school was seized, the terrorists quarreled - many were unhappy with the fact that the hostages were children. Polkovnik personally shot one of the terrorists and even blew up the two female suicide bombers (via a remote) to show that he meant business.
According to Kulov:
- there were a total of 32 terrorists in the group. (30 bodies have been found. Kulov was caught, meaning that 1 got away)
- He doesn't know any last names or ethnicities of the other members in the group. The terrorists called each by arab names to avoid using their real names.
- There wasn't a black man amongst them - authorities mistook one of the terrorists for one, because he was burned and his face got covered with soot, during the storm.
* Hodov (an Osetian), as I reported before was sought in connection with a bombing that took place on a train "Moscow - Vladivakavkz" on May 15th, 2004.
According to lenta.ru, the man shown on Channel 1 (Kulov) was of a dark complexion, unshaved and about 30 years of age. He spoke russian with a heavy accent, and during the questioning repeated several times "I swear, I want to live. I swear to Allah, that I did not kill a single woman or a child".
Just a side note, as I posted prior, an ex hostage (a boy) told investigators that "When I asked him (one of the terrorists) if we'll be freed, he said: I don't know guys, I am not in the know". His account seems consistent with the terrorist's testimony that not everybody knew of the details of their "mission".
The only terrorist of the group who was caught alive.
More info from gzt.ru
More info about the terrorists. At least four of them are from Nozha-Urt, Chechnya. The terrorist who was caught alive, 24 old, Nur-Pashi Kulaev (this source spells the last name a bit differently) and his brother, 31 year old Han-Pashi Kulaev (killed september 3rd), were Basayev's personal bodyguards. Kulaev also fought along side Basayev in Grozni, 2000 (where Basayev lost his leg).
This group of terrorists consisted of Chechens, Ingushi, Kazakhs, Arabs and Slavs.
Unlike the previous source, gzt.ru is claiming that Kulaev has identified some of his cohorts. In Chechnya, Kulaev is known as a ruthless kililer - he has killed dozens of soldiers and civilians. Basayev was very close to brothers Kulaeav, so close that (according to sources) he even came to one of their relatives' funeral. Kulaev's were also tightly connected with Rustam Ganiev, who according to a Zerema Muzhahova (female suicide-bomber-to-be who was apprehended minutes before she was about tor act), trained many female suicide bomers.
Two others names are known - Arsen Merzhoev and Mairbek Shibihanov.
Magomed Evloev, was considered the leader of the group, has not been found yet.
According to intelligence:
The school siege was well planned. Terrorists brought explosives, weapons, and food (canned goods and chocolate) back in July, when school was going through renovations. According to hostages, within the first minutes of the siege, the terrorists made male hostages rip up the floor, from under which they extracted their contraband.
Several of the terrorists' bodies have now been identified as the "construction workers" who remodeled the school. Their intent explains the low price they've charged.
Another photo of the captured terrorist.
A full day after I reported (via utro.ru, scroll up) that an anonymous morgue employee claimed 394 bodies have been received, reuters reports the same:
Casualty figures continued to swing wildly, with the official death toll standing at 335 people although a worker in the region's main morgue told AFP that it had already received 394 bodies from the disaster.
Both, Muslim and Christian victims are being buried in the same cemetery.

Maskhadov's sister called on her brother to stop the crimes against civilians.
Maskhadov's cousins Ramzan Said-Ahmedovitch and Ruslan Said-Ahmedovitch Maskhadov called on the Chechnya's ex president to "be a man" and stop the terror. "Chechnya is coming back to normalcy, people are going to work and there's no need for terror, you can't justify it".
Also, various members of Basayev's extended family are quoted as condemning terror
Officials are denying that hundreds are missing.
Reporter for the sattelite channel Al-Arabia has been detained in "Miniral'nie Vodi" airport trying to book a flight to Moscow.
Authorities say that he had an object in his baggage that is forbidden to take on a plane. What that object is has not been disclosed, yet. Authorities are investigating.
More testimony from the captured terrorist. The group was organized by "Polkovnik" (Colonel), who said that Basayev and Maskhadov ordered a school to be taken hostage. This was to be done in order to ignite a war in the Caucus region.
Hostages said that the terorrists wore brand new NATO type camouflage, had modern assault rifles, communications equipment and medical kits.
This indicates that they are well funded and trained.
According to russian intelligence, this terrorist act was planned from abroad - Basayev received 2 million dollars and equipment.
Some of the terorrists, who took part in the hostage taking in Beslan, were arrested prior and were supposed to be doing time in jail. Authorities are investigating how they were released.
There will be a closed investigation of the terrorist act that took place in Beslan and how it was handled. Putin said that he will not be against the parliament conducting their own investigation, if they will feel the need to, but warned against it becoming a "political show".
Relatives of the Beslan's victims are threatening with mass protests, unless the president of North Osetia, Alexander Dzasohov, resigns. Mob of thousands Osetians tried pogrom Ingushetian houses in the area. Police was succesful in talking them into disbanding.
Also, vesti.ru has a video of the captured terrorist testifying and implicating Maskhadov (in russian).
Shamil Basayev's official mouthpiece - kavkazcenter.com - has a new conspiracy theory. As I reported earlier, some of the terrorists who took part in the murder of students in Beslan, were supposed to be doing time in russian jails. Basayev's PR is claiming (here), that the FSB has taken those jailed terorrists, killed them and put their bodies on the scene in Beslan in order to frame Basayev.
Kulaev has been brought out from prison in order to give false testimony, they claim.
The video (russian) from vesti.ru, however, has several ex hostages identifying Kulaev as one of the terorrists.
Russian channel NTV has a video tape shot by the terrorists during the siege. On that tape one can see:
- the gym with the hostages - they are quiet and there is no panic.
- armed terrorists, females with suicide belts.
- terrorists rigging the gym with explosives and setting
the trip wires around the hostages.
- there's some blood visible on the gym's floor.
- one can hear the voice of one of the terrorists talking
(in a language other then russian) on the cell phone.
I am going to post that video as soon as its available on the net.
Drudge beat me to it by posting a link to the images from that video.
It's horrible. You can clearly see the blood on the floor...
(via FreeRepublic.com)


*WARNING* Very graphic!
Relatives Identify Dead Children In The City Morgue of Vladikavkaz
*************************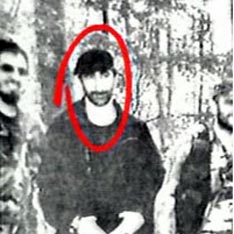 One of the dead terrorists was actually an ex Ingushetian policeman who was declared dead in 1998.
Ali Musaevich Taziev was the bodyguard of Olga Fateeva Uspenskaya - wife of the adviser to the president of Ingushetia. On October 10, 1998, Uspenskaya, Taziev and his partner were kidnapped by the Chechen terrorists. Uspenskaya was eventually freed in 2000, Taziev's partner was found dead, and thus Taziev was declared dead - heroically killed while performing his duty.

In reality, Taziev assumed a new identity, Magomed "Magas" Evloev, and joined the terrorists. Eventually, he formed his own band of 30, which consisted of Chechens, Ingushetians, Kalmiks and two Arabs.
*******************
NEW UPDATES ARE HERE
*******************